Avéle Polo Cup was successfully held in Cap Cana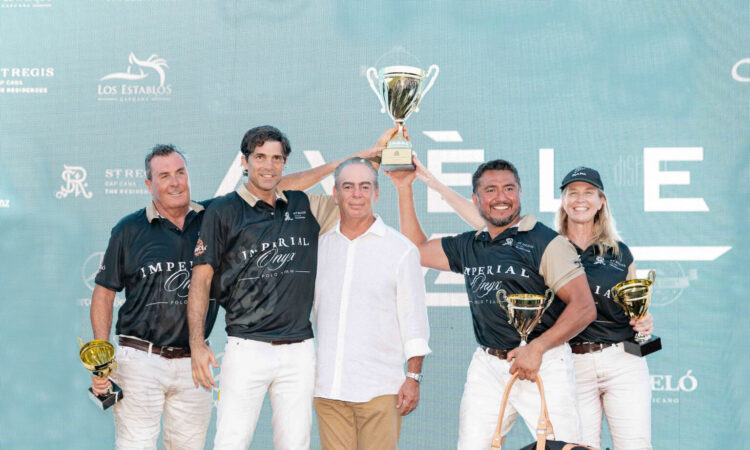 Cap Cana.- The inaugural Avéle Polo Cup marked a remarkable gathering at Los Establos de Cap Cana, graced by the esteemed Argentine polo legend, Nacho Figueras. This grand event was organized to support the noble cause of the Juan Luis Guerra Foundation.
Nacho Figueras, renowned as one of the most celebrated polo players in history, took to the field with his team, engaging in an exhilarating competition against the formidable Avèle – Imperial Polo Team. During this thrilling encounter, Nacho's autographed polo gear, used in the event, was put up for auction, adding an extra layer of excitement to the occasion.
The official commencement of the tournament was marked by the presence of Engineer Dino Campagna, the President of St. Regis Cap Cana. He expressed the privilege of hosting Nacho Figueras, emphasizing that having such an internationally acclaimed figure in a sport as distinctive as polo was a true luxury. This, he stated, underscored St. Regis' unwavering commitment to the realms of sports, luxury, and exclusive experiences.
Nacho Figueras led the St. Regis Cap Cana team, which also featured skilled players like Brian Mcfall, Carlos Armenta, and Mary Jo Reinhardt. Their opponents, the Avéle–Imperial team, comprised Pedro Castillo, Mauricio Bogaert, Jose Cedano, and Maxi Menecier. In a closely contested match, the St. Regis team emerged victorious with a final score of 7 to 5, with Nacho himself contributing five crucial goals.
Nacho Figueras earned the title of Most Valuable Player (MVP), while the Best Playing Pony of the day was the JLO mare, owned by Roberto Spitale, and ridden by Mary Jo Reinhardt.
In his reflections on the event, Nacho expressed his awe at the natural beauty of Cap Cana, likening it to a second home. He commended the event for its significant charitable component and was particularly impressed by the venue, St. Regis Cap Cana, which he deemed an exceptional and unique place. He went so far as to predict that it might become the finest St. Regis property in the world.
The Avéle Polo Cup was not just about sporting excellence; it also featured a charitable side. Throughout the event, several valuable works of art by esteemed artists such as Heriberto Cogollo, Aquiles Azar Billini, and Fernando Varela were auctioned. Additionally, 100 official numbered caps, signed by Nacho Figueras and Juan Luis Guerra, were made available for purchase. In a gesture of appreciation, first-generation Avele Pilot Wings crafted from Antique Gold Metal were given as gifts for all donations made directly to the Foundation.
The event followed an exclusive invitation-only format, bringing together over 500 distinguished personalities closely associated with St. Regis Hotels and Residences and Cap Cana.